Experiencing nature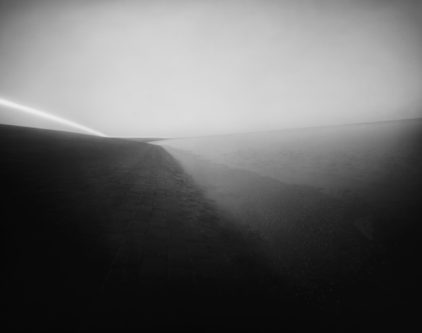 Connecting with the landscape

At the moment, I work a lot along The Wadden Sea coast, which is a system of tidal mudflats and a Unesco World Heritage Site in The Netherlands.
I started working in this area because of a group exhibition I participated in last summer at Museum Belvédère. This exhibition brought together the diverse work of different artists finding inspiration in and around The Wadden Sea Region.
I created some new images for this show. The area appeared to be very suitable for my long exposures, so I decided to turn it into a new project and visualise the whole Wadden Sea coast in the Netherlands, Germany and Denmark.
What attracts me is that it is peaceful and quiet, and it often feels like the end of the world.
It starts as you drive there over the narrow country roads. In some places, it is so small that cars can hardly pass each other. But then, on the other hand, I am surprised when on weekdays I run into oncoming traffic other than a single tracker.
For the project, I began close to home for practical reasons and later further away.
But even close to my own home, I am still surprised by the most amazing places I didn't know.
I love quests for great places, and nothing is better than finding it and taking pictures there.
Being one with nature provokes my imagination. Out of the blue, I get this amazing inspiration, and everything comes together in the right way.
I won't be the only one who feels this way when experiencing nature.
A few months ago, I was at the Wadden Sea coast making images. As I walked back to the car and climbed over the dike, I saw this elderly couple from a distance. The woman had problems walking. At the place, there was an asphalt uphill slope.
The woman walked with a walker, and as they walked up, the man supported her in her undoubtedly challenging hike up. When they finally reached the top of the dike, they stood still arm in arm, and together they looked out across the sea.
They stood there for half an hour, enjoying the view.
This wonderful scene touched me.
The couple seemed so connected to one another and the natural landscape of the sea in front of them.
I was wondering what brought them to this place which was so difficult to access for them.
They made me think about their connection with nature. Were they awed and inspired by the beauty of it as much as I was, or was there an even deeper emotional connection for them with this place?
Were they just aware of the fact that it's been proven that being in nature or even viewing scenes of nature has a positive effect on our wellbeing? Emotionally but also physically.
I took off while they were still standing there.
Driving home, I realised that I would have loved to hear their story or portray them as they stood there with the sea in the background. But at the moment, it didn't seem appropriate to spoil the magic.
I have been back to this place many times ever since, but I never saw this couple again. The images I made in this place so far aren't showing any people in them. Maybe it's for the best.
I am showing some recent work created along the Wadden Sea here.

If you don't want to miss any blog posts, you can sign up for regular updates and more.